Leer Cast
Festival Mask

Requires Level

28

,

33

Dex,

33

Int

+23 to Dexterity
25% reduced Damage
+94 to maximum Life
+82 to maximum Mana
You and nearby allies gain 50% increased Damage



For none of us are as cruel as all of us.



~price 5 chaos

Grim Fletch
Searching Eye Jewel

Requires Level

56



Adds 1 to 3 Physical Damage to Attacks
Adds 3 to 38 Lightning Damage to Attacks
12 to 22 Added Fire Damage with Bow Attacks
3 to 43 Added Lightning Damage with Bow Attacks

Place into an Abyssal Socket on an Item or into an allocated Jewel Socket on the Passive Skill Tree. Right click to remove from the Socket.

~price 10 chaos

Phoenix Pendant
Turquoise Amulet

Requires Level

60





+22 to Dexterity and Intelligence



+8 to all Attributes
49% increased Mana Regeneration Rate
+13% to all Elemental Resistances
+1 to Level of all Cold Skill Gems

~price 10 chaos

Witchfire Brew
Stibnite Flask

Requires Level

48





Creates a Smoke Cloud on Use



3% reduced Charges per use
Grants Level 21 Despair Curse Aura during Effect

"Think of those that cursed us, judged us,
and burned our sisters upon the pyre.
Think of their names as you drink,
and even their children will feel what we do to them today."
-Vadinya, to her coven

Right click to drink. Can only hold charges while in belt. Refills as you kill monsters.

~price 2 chaos

Rage Coil
Unset Ring

Requires Level

40





Has 1 Socket



+2 to Level of Socketed Gems
+57 to maximum Life
Regenerate 15.3 Life per second
+12% to all Elemental Resistances

~price 5 chaos

Behemoth Spiral
Coral Ring

Requires Level

54





+20 to maximum Life



+83 to Evasion Rating
+15 to maximum Mana
+28% to Cold Resistance
+22% to Lightning Resistance
+20% to Chaos Resistance

~price 10 chaos

Dusk Glimmer
Cobalt Jewel

24% reduced Ignite Duration on you



15% increased Mine Damage
+6% to Chaos Damage over Time Multiplier
+12% to Chaos Resistance
Corrupted

Place into an allocated Jewel Socket on the Passive Skill Tree. Right click to remove from the Socket.

~price 15 chaos

Algor Mortis
Carnal Mitts

Requires Level

50

,

39

Dex,

39

Int



Curse Enemies with Temporal Chains on Hit



+61 to maximum Energy Shield
+19% to Cold and Lightning Resistances
20% chance to Sap Enemies in Chilling Areas
Enemies in your Chilling Areas take 34% increased Lightning Damage
17% increased Effect of Non-Damaging Ailments
Corrupted



Winter's white blanket swaddles all.



~price 20 chaos

Vivinsect
Unset Ring

Requires Level

48





Has 1 Socket



+5 to Level of Socketed Aura Gems
Socketed Gems have 20% reduced Reservation Efficiency
+21 to all Attributes
+33 to Strength and Dexterity
Regenerate 15 Life per second for each Uncorrupted Item Equipped
-2 to Total Mana Cost of Skills for each Corrupted Item Equipped

"Fusing the parasite with another ring has manifested unpredictable effects.
I theorise the sacrificial vessel's level of anguish is a key variable."
- Arzaak, Syndicate Researcher

~price 180 chaos

Power Siphon

Quality:

+18%



Requires Level

72

,

159

Int



Fires your wand to unleash projectiles that fire toward enemies in front of you or to your sides, dealing increased damage and granting you a power charge if an enemy is killed by, or soon after, the hit.



Fires 8 additional Projectiles
Culling Strike
18% increased Damage
20% chance to gain a Power Charge when Projectile Hits a Rare or Unique Enemy
20% increased Critical Strike Chance per Power Charge
+10% to Critical Strike Multiplier per Power Charge
Corrupted

Place into an item socket of the right colour to gain this skill. Right click to remove from a socket.

Damnation Splinter
Crimson Jewel

2% increased Reservation Efficiency of Skills



9% increased Damage
14% increased Critical Strike Chance with Elemental Skills
14% increased Damage with One Handed Weapons
Corrupted

Place into an allocated Jewel Socket on the Passive Skill Tree. Right click to remove from the Socket.

~price 20 chaos

Rapture Scar
Viridian Jewel

+1% Chance to Block Spell Damage while holding a Shield
+8% to Chaos Damage over Time Multiplier
5% increased maximum Life
Corrupted

Place into an allocated Jewel Socket on the Passive Skill Tree. Right click to remove from the Socket.

~price 40 chaos

Plague Lash
Leather Belt

Requires Level

57





+38 to maximum Life



+85 to maximum Life
+30 to maximum Mana
+35% to Fire Resistance
+30% to Chaos Resistance
27% increased Flask Effect Duration

~price 200 chaos

Loath Idol
Amber Amulet

Requires Level

60





+21 to Strength



17% increased Spell Damage
2% increased maximum Energy Shield
8% increased Attack and Cast Speed
+1 to Level of all Chaos Skill Gems

~price 30 chaos

Blasphemy Support

Quality:

+20%



Requires Level

70

,

111

Int



Supports hex curse skills, turning them into auras that will apply their effect to all enemies in an area around you.



Supported Curse Skills apply their Curses as Auras Supported Curse Skills also count as Aura Skills
Using Supported Skills is Instant
25% less Effect of Supported Curses
96% increased Area of Effect of Supported Curse Skills
Corrupted

This is a Support Gem. It does not grant a bonus to your character, but to skills in sockets connected to it. Place into an item socket connected to a socket containing the Active Skill Gem you wish to augment. Right click to remove from a socket.

~price 15 chaos

Darkness Enthroned
Stygian Vise

Has 1 Abyssal Socket



Has 1 Abyssal Socket
75% increased Effect of Socketed Abyss Jewels

Hold in your hand the darkness
and never will the light blind you.

~price 5 chaos

Torment Urge
Carnal Boots

Requires Level

57

,

52

Dex,

52

Int

+39 to Intelligence
+74 to maximum Life
+60 to maximum Mana
+42% to Fire Resistance
+33% to Cold Resistance
30% increased Movement Speed
Corrupted

~price 80 chaos

Bated Breath
Chain Belt

Requires Level

22





+17 to maximum Energy Shield



+25 to Intelligence
10% increased Damage
+30 to maximum Energy Shield
20% increased maximum Energy Shield
50% increased Energy Shield Recharge Rate
Corrupted



At knifepoint, a moment's hesitation means death.



~price 20 chaos

Enthralling Orb
Ghastly Eye Jewel

Requires Level

60



+106 to Evasion Rating
Minions have 11% chance to Poison Enemies on Hit
Minions have 6% chance to Taunt on Hit with Attacks
Minions deal 21 to 26 additional Physical Damage

Place into an Abyssal Socket on an Item or into an allocated Jewel Socket on the Passive Skill Tree. Right click to remove from the Socket.

~price 100 chaos

Gale Refuge
Alder Spiked Shield

Requires Level

64

,

74

Dex,

74

Int



+3% chance to Suppress Spell Damage



+19% chance to Suppress Spell Damage
Adds 14 to 22 Fire Damage
Adds 14 to 21 Cold Damage
+13 to maximum Energy Shield
+27 to maximum Life
+4% to all Elemental Resistances
+3% to maximum Fire Resistance

~price 45 chaos

Woe Weaver
Prophecy Wand

Physical Damage:

93-171


Critical Strike Chance:

8.00%


Attacks per Second:

1.20



Requires Level

68

,

245

Int



38% increased Spell Damage



167% increased Physical Damage
+14% to Damage over Time Multiplier
+28% to Physical Damage over Time Multiplier
20% increased Cast Speed

~price 50 chaos

Blood Visor
Royal Burgonet

Quality:

+20%



Requires Level

65

,

148

Str

63% increased Armour
+99 to maximum Life
Regenerate 62.3 Life per second
+44% to Fire Resistance
+35% to Cold Resistance

~price 150 chaos

Morbid Lens
Ghastly Eye Jewel

Requires Level

52



+21 to maximum Mana
Minions deal 14 to 19 additional Fire Damage
Minions have 5% chance to Blind on Hit with Attacks
Minions have 4% chance to Hinder Enemies on Hit with Spells

Place into an Abyssal Socket on an Item or into an allocated Jewel Socket on the Passive Skill Tree. Right click to remove from the Socket.

~price 15 chaos

Eye of Innocence
Citrine Amulet

Requires Level

68





30% increased Rarity of Items found



10% chance to Ignite
62% increased Damage while Ignited
Take 100 Fire Damage when you Ignite an Enemy
2% of Fire Damage Leeched as Life while Ignited
Corrupted

"...and so He said: 'Let only the good meet my gaze'
and no eye met His. So He called down the cleansing flames
and let black smoke sweep the Sinners away."
- Book of Innocence

~price 20 chaos

Ancient Prism
Ghastly Eye Jewel

Requires Level

65



+38 to maximum Life
Regenerate 3.9 Mana per second
42% chance to Avoid being Frozen
Minions have +231 to Accuracy Rating

Place into an Abyssal Socket on an Item or into an allocated Jewel Socket on the Passive Skill Tree. Right click to remove from the Socket.

~price 30 chaos

Empyrean Bliss
Cobalt Jewel

15% increased Mana Regeneration Rate
+8% to all Elemental Resistances
3% increased Mana Reservation Efficiency of Skills
Corrupted

Place into an allocated Jewel Socket on the Passive Skill Tree. Right click to remove from the Socket.

~price 20 chaos

Ancient Stare
Ghastly Eye Jewel

Requires Level

66



4% increased Cast Speed
+39 to maximum Energy Shield
Minions have 5% chance to Blind on Hit with Attacks
Minions Regenerate 53 Life per second

Place into an Abyssal Socket on an Item or into an allocated Jewel Socket on the Passive Skill Tree. Right click to remove from the Socket.

~price 1 divine

Professor's Void Sceptre of Unmaking

Physical Damage:

50-76


Critical Strike Chance:

6.20%


Attacks per Second:

1.25


Weapon Range:

11



Requires Level

68

,

104

Str,

122

Int



40% increased Elemental Damage





48% increased Spell Damage



~price 20 chaos

Hypnotic Ruin
Crimson Jewel

4% increased Attack Speed
6% increased Attack Speed while holding a Shield
+18% to Critical Strike Multiplier with Fire Skills
33% reduced Effect of Chill on you
Corrupted

Place into an allocated Jewel Socket on the Passive Skill Tree. Right click to remove from the Socket.

~price 20 chaos

Ancient Scratch
Murderous Eye Jewel

Requires Level

67



+12% to Global Critical Strike Multiplier
+84 to Armour
2 to 35 Added Lightning Damage with Dagger Attacks
Enemies Maimed by you take 5% increased Damage Over Time

Place into an Abyssal Socket on an Item or into an allocated Jewel Socket on the Passive Skill Tree. Right click to remove from the Socket.

~price 30 chaos

Demon Finger
Topaz Ring

Requires Level

64





+26% to Lightning Resistance



Grants Level 20 Aspect of the Spider Skill
+71 to maximum Mana
+45% to Fire Resistance
+29% to Lightning Resistance

~price 200 chaos

Eagle Wound
Viridian Jewel

+6% to Physical Damage over Time Multiplier
12% increased Global Critical Strike Chance
7% increased maximum Life
Damaging Ailments deal damage 4% faster

Place into an allocated Jewel Socket on the Passive Skill Tree. Right click to remove from the Socket.

~price 200 chaos

Skull Band
Sapphire Ring

Requires Level

59





+26% to Cold Resistance



+47 to maximum Energy Shield
+51 to maximum Mana
22% increased Mana Regeneration Rate
Curse Enemies with Conductivity on Hit

~price 25 chaos

Loreweave
Elegant Ringmail

Quality:

+20%



Requires Level

64

,

90

Str,

105

Int

Has 6 Sockets
+20 to all Attributes
Adds 6 to 18 Physical Damage to Attacks
39% increased Global Critical Strike Chance
+45 to maximum Energy Shield
+47 to maximum Life
+40 to maximum Mana
11% increased Rarity of Items found
39% increased Elemental Damage
Your Maximum Resistances are 78%

When it comes to finding a use for surplus,
a rich man has within himself
boundless creativity.

~price 8 divine

Ancient Arbiter
Ghastly Eye Jewel

Requires Level

60



+33 to maximum Energy Shield
Minions have 7% chance to Taunt on Hit with Attacks
Minions deal 16 to 23 additional Chaos Damage
Minions have 3% chance to Blind on Hit with Attacks

Place into an Abyssal Socket on an Item or into an allocated Jewel Socket on the Passive Skill Tree. Right click to remove from the Socket.

~price 80 chaos

Atziri's Step
Slink Boots

Requires Level

69

,

120

Dex

+23% chance to Suppress Spell Damage
180% increased Evasion Rating
+60 to maximum Life
30% increased Movement Speed

"Those who dance are considered insane
by those who cannot hear the music."
- Atziri, Queen of the Vaal

~price 10 chaos

Cold Iron Point
Ezomyte Dagger

Quality:

+20%


Physical Damage:

24-95


Critical Strike Chance:

6.30%


Attacks per Second:

1.40


Weapon Range:

10



Requires Level

62

,

95

Dex,

131

Int



30% increased Global Critical Strike Chance



+3 to Level of all Physical Spell Skill Gems
Deal no Elemental Damage
Corrupted



There is nothing more brutal than a simple blade wielded with rage.



~price 10 chaos

Morbid Oculus
Searching Eye Jewel

Requires Level

64



+9% to Global Critical Strike Multiplier
+145 to Evasion Rating
Regenerate 18.3 Life per second
+11% to Cold and Lightning Resistances

Place into an Abyssal Socket on an Item or into an allocated Jewel Socket on the Passive Skill Tree. Right click to remove from the Socket.

~price 150 chaos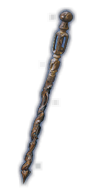 Tempest Chant
Synthesised Woodful Staff

Physical Damage:

34-102


Critical Strike Chance:

6.20%


Attacks per Second:

1.15


Weapon Range:

13



Requires Level

48

,

65

Str,

65

Int



Attacks with this Weapon Penetrate 2% Elemental Resistances



+9 to Strength
28% increased Spell Damage
Adds 6 to 132 Lightning Damage to Spells
+40 to maximum Mana
+36% to Fire Resistance

~price 35 chaos

Whispering Prism
Ghastly Eye Jewel

Requires Level

48



+9 to Strength and Intelligence
Minions have 15% chance to cause Bleeding with Attacks
Minions deal 1 to 10 additional Lightning Damage

Place into an Abyssal Socket on an Item or into an allocated Jewel Socket on the Passive Skill Tree. Right click to remove from the Socket.

~price 45 chaos

Circle of Anguish
Synthesised Ruby Ring

Requires Level

52





19% increased Damage while Leeching Life



+25 to Strength
Adds 22 to 29 Fire Damage
+22% to Fire Resistance
49% increased Fire Damage while affected by Herald of Ash
Herald of Ash has 30% increased Mana Reservation Efficiency

I condemned an innocent man to the pyres, but to admit this mistake is to condemn myself.
My only choice is to strive harder.

~price 40 chaos

Grim Vision
Hypnotic Eye Jewel

Requires Level

28



Adds 8 to 11 Cold Damage to Spells
+27 to maximum Life
10% increased Damage over Time while wielding a Two Handed Weapon

Place into an Abyssal Socket on an Item or into an allocated Jewel Socket on the Passive Skill Tree. Right click to remove from the Socket.

~price 30 chaos

Spirit Glisten
Cobalt Jewel

4% increased Attack Speed
4% increased Attack Speed while holding a Shield
9% increased Global Critical Strike Chance
9% increased Flask Effect Duration

Place into an allocated Jewel Socket on the Passive Skill Tree. Right click to remove from the Socket.

~price 30 chaos

Glyph Shard
Viridian Jewel

4% increased Damage



12% increased Damage over Time
2% increased Mana Reservation Efficiency of Skills
34% reduced Effect of Shock on you
Corrupted

Place into an allocated Jewel Socket on the Passive Skill Tree. Right click to remove from the Socket.

~price 40 chaos

Actum
Butcher Axe

Physical Damage:

151-280


Critical Strike Chance:

5.00%


Attacks per Second:

1.30


Weapon Range:

11



Requires Level

63

,

149

Str,

76

Dex

Has no Sockets
222% increased Physical Damage
You have no Intelligence
Critical Strike Chance is 30% for Hits with this Weapon

Better to act without thought
than to think without action.

~price 180 chaos

Battlemage's Cry Support

Requires Level

70

,

98

Str,

68

Int



Performs a warcry, taunting nearby enemies to attack the user and exerting subsequent attacks. Grants a buff which boosts critical strike chance and allows attacks to benefit from increases to spell damage.



Base duration is 5.90 seconds
38% increased Warcry Speed
Counts total Power of Enemies in Range
Buff grants 10% increased Critical Strike Chance per 5 power, up to a maximum of 30%
Buff makes Increases and Reductions to Spell Damage also apply to Attacks at 25% of their value per 5 power, up to a maximum of 150%
Exerts the next 5 Melee Attacks you perform
Exerted Attacks Trigger a Supported Spell with their first Melee Hit

Place into an item socket of the right colour to gain this skill. Right click to remove from a socket.

~price 20 chaos

Kraken Spark
Cobalt Jewel

2% increased Reservation Efficiency of Skills



+1% Chance to Block Spell Damage while holding a Shield
8% increased Damage
22% increased Minion Accuracy Rating
Corrupted

Place into an allocated Jewel Socket on the Passive Skill Tree. Right click to remove from the Socket.

~price 30 chaos

Replica Reckless Defence
Cobalt Jewel

+2% Chance to Block Spell Damage
+3% Chance to Block Attack Damage
+10% chance to be Frozen, Shocked and Ignited
Corrupted



"Prototype #298 must be contained in a non-conductive glass box at all times."



Place into an allocated Jewel Socket on the Passive Skill Tree. Right click to remove from the Socket.

~price 5 chaos

Replica Reckless Defence
Cobalt Jewel

Damage Penetrates 1% Elemental Resistances



+2% Chance to Block Spell Damage
+4% Chance to Block Attack Damage
+10% chance to be Frozen, Shocked and Ignited
Corrupted



"Prototype #298 must be contained in a non-conductive glass box at all times."



Place into an allocated Jewel Socket on the Passive Skill Tree. Right click to remove from the Socket.

~price 80 chaos

The Primordial Chain
Coral Amulet

Requires Level

64





+1% to all maximum Resistances



+3 to maximum number of Summoned Golems
You cannot have non-Golem Minions
25% reduced Golem Size
Golems Deal 43% less Damage
Golems have 42% less Life
Golems have 98% increased Movement Speed
Primordial
Corrupted

The leash of the lifegiver
binds in both directions.

~price 100 chaos

Honourhome
Soldier Helmet

Requires Level

52

,

16

Str,

16

Int



Lightning Strike pierces 2 additional Targets



+2 to Level of Socketed Gems
Adds 1 to 30 Lightning Damage to Spells and Attacks
109% increased Armour and Energy Shield
10% increased Rarity of Items found
14% reduced Mana Cost of Skills

"The craven mind is sharp with self interest.
The honourable mind is much easier to manipulate."
- Malachai the Soulless

~price 30 chaos

Vitality

Requires Level

72

,

123

Str



Casts an aura that grants life regeneration to you and your allies.



+20 to radius
You and nearby Allies Regenerate 203.3 Life per second
Corrupted

Place into an item socket of the right colour to gain this skill. Right click to remove from a socket.

~price 100 chaos

Summon Stone Golem

Requires Level

72

,

100

Str,

70

Dex



Summons a Stone Golem that grants you life regeneration. In addition to its melee attack, the Stone Golem uses a rolling charge and a powerful slam that can taunt enemies.



Maximum 1 Summoned Golem
40% increased Minion Maximum Life
Golems grant 110 Life Regenerated per second
Corrupted

Place into an item socket of the right colour to gain this skill. Right click to remove from a socket.

~price 5 chaos

Rigwald's Command
Midnight Blade

Physical Damage:

123-301


Critical Strike Chance:

5.00%


Attacks per Second:

1.30


Weapon Range:

11



Requires Level

68

,

113

Str,

113

Dex

18% increased Physical Damage
Melee Hits have 10% chance to Fortify

+10% Chance to Block Attack Damage while Dual Wielding
Adds 69 to 156 Physical Damage
+395 to Accuracy Rating
+1% to Damage over Time Multiplier for Bleeding per Rage while wielding an Axe
Corrupted

Fear not death. Turn to him, face him.
And smile as he sinks his teeth
into the throats of our oppressors.

~price 2 exalted

Whispering Globe
Ghastly Eye Jewel

Requires Level

60



Damage Penetrates 1% Lightning Resistance
You cannot be Hindered

+53 to Evasion Rating
+34 to maximum Energy Shield
+14% to Fire Resistance
Corrupted

Place into an Abyssal Socket on an Item or into an allocated Jewel Socket on the Passive Skill Tree. Right click to remove from the Socket.

~price 30 chaos

Enthralling Lens
Murderous Eye Jewel

Requires Level

41



5% increased Damage
4% increased Area of Effect

Adds 6 to 13 Cold Damage to Attacks
Adds 1 to 30 Lightning Damage to Attacks
+29 to maximum Life
3 to 4 Added Physical Damage with Dagger Attacks
Corrupted

Place into an Abyssal Socket on an Item or into an allocated Jewel Socket on the Passive Skill Tree. Right click to remove from the Socket.

~price 30 chaos

Fate Crest
Deicide Mask

Requires Level

67

,

73

Dex,

88

Int



Summoned Reaper deals 40% increased Damage



43% increased Evasion and Energy Shield
+88 to maximum Life
+41% to Fire Resistance
+44% to Lightning Resistance

~price 150 chaos

Foul Arbiter
Ghastly Eye Jewel

Requires Level

52



+25 to maximum Mana
Minions have +10% to Chaos Resistance
Minions deal 14 to 18 additional Fire Damage
Minions have 7% chance to Hinder Enemies on Hit with Spells

Place into an Abyssal Socket on an Item or into an allocated Jewel Socket on the Passive Skill Tree. Right click to remove from the Socket.

~price 30 chaos

Agony Talons
Synthesised Imperial Claw

Physical Damage:

26-67


Critical Strike Chance:

6.60%


Attacks per Second:

1.68


Weapon Range:

11



Requires Level

68

,

131

Dex,

95

Int



2% increased Damage per Frenzy Charge



Adds 1 to 2 Physical Damage
Adds 2 to 48 Lightning Damage
5% increased Attack Speed
10% increased Critical Strike Chance
36% increased Damage with Poison
25% chance to Poison on Hit

~price 180 chaos

Entropy Ornament
Cobalt Jewel

6% increased maximum Energy Shield
6% increased Energy Shield Recharge Rate
+11% to Cold and Lightning Resistances
33% reduced Bleed Duration on you
Corrupted

Place into an allocated Jewel Socket on the Passive Skill Tree. Right click to remove from the Socket.

~price 20 chaos

Bisco's Leash
Heavy Belt

Requires Level

30





10% increased maximum Energy Shield



5% increased Quantity of Items found
+35% to Cold Resistance
1% increased Rarity of Items found per 15 Rampage Kills
Rampage
Corrupted

You were always there, by my side,
whether we sat or played.
Our friendship was a joyful ride,
I wish you could have stayed.

~price 35 chaos

Chronicle of Atzoatl

"The Vaal had little concern for the externalities of their engineering. The toxins produced by their manufacturing may have poisoned the entirety of Atzoatl." - Icius Perandus, Antiquities Collection, Desiccated Corpse of a Vaal Citizen



Right click this item to view the Temple of Atzoatl.
Can be used in a personal Map Device to open portals to the Temple of Atzoatl in the present day.

~price 30 chaos

Bramble Cut
Crimson Jewel

Damage Penetrates 1% Fire Resistance



6% increased Attack Speed with Maces or Sceptres
+10% to all Elemental Resistances
3% increased Mana Reservation Efficiency of Skills
Corrupted

Place into an allocated Jewel Socket on the Passive Skill Tree. Right click to remove from the Socket.

~price 30 chaos

Onslaught Collar
Coral Amulet

Quality:

+16%



Requires Level

65





Regenerate 3.7 Life per second



+53 to Dexterity
38% increased Global Critical Strike Chance
28% increased Evasion Rating
27% increased Mana Regeneration Rate
+1 to Level of all Physical Skill Gems

~price 1 divine

Beast Knot
Amethyst Ring

Requires Level

67





+22% to Chaos Resistance



+52 to Intelligence
Adds 9 to 14 Physical Damage to Attacks
+47 to maximum Energy Shield
+69 to maximum Mana
+47% to Cold Resistance
15% of Damage taken Recouped as Life

~price 120 chaos

Eagle Nail
Iron Ring

Requires Level

52





Adds 1 to 4 Physical Damage to Attacks



+40 to Strength
7% increased Cast Speed
+51 to Evasion Rating
+34 to maximum Energy Shield
+47 to maximum Life
Curse Enemies with Conductivity on Hit

~price 50 chaos

Luminous Spark
Crimson Jewel

Overwhelm 2% Physical Damage Reduction



+10 to Strength and Dexterity
16% increased Lightning Damage
16% increased Critical Strike Chance with Fire Skills
+11% to Global Critical Strike Multiplier
Corrupted

Place into an allocated Jewel Socket on the Passive Skill Tree. Right click to remove from the Socket.

~price 50 chaos

Rapture Scar
Crimson Jewel

Requires Level

26





Corrupted Blood cannot be inflicted on you



16% increased Damage with Maces or Sceptres
+10% to all Elemental Resistances
12% increased Damage with Two Handed Weapons
31% reduced Poison Duration on you
Corrupted

Place into an allocated Jewel Socket on the Passive Skill Tree. Right click to remove from the Socket.

~price 40 chaos

Hypnotic Curio
Crimson Jewel

6% increased maximum Life
Gain 3 Life per Enemy Hit with Attacks
Damaging Ailments deal damage 4% faster

Place into an allocated Jewel Socket on the Passive Skill Tree. Right click to remove from the Socket.

~price 50 chaos